Description
.340 Weatherby Magnum 225 Grain Nosler AccuBond- Introduced in 1963, the 340 Weatherby was designed as a response to the 338 Winchester Mag. However, Roy took advantage of the longer case to pack in more powder for greater velocity. And, it shoots heavier 338 bullets at higher velocities as well – a decidedly powerful combination. Ideally suited for animals the size of elk or larger, the 340 can also be used by deer hunters with lighter bullet weights.
The power of the .340 can be utilized in two ways. On light to mid weight game, increased velocity in comparison to the smaller .338's helps to ensure increased target resistance and therefore increased energy transfer. This results in fast killing out to greater distances. On large and heavy game, the .340 can drive very long for caliber bullets at high velocities, ensuring deep bone smashing penetration, thereby increasing the flexibility of the .338 bore which although designed for large game, was not intended as a heavy game bore diameter.
The .340 Weatherby is becoming somewhat rare these days but still maintains a loyal following. This is an extremely potent and effective cartridge and its velocity gains over the original Winchester cartridge can be exploited on both lighter framed game and tough heavy game.
Choice Ammunition has taken our 100% hand-loading techniques and produce an extremely accurate, highly dependable round for the .340 Weatherby in this load. Our loading tolerances are only matched by passionate hand-loaders in their own loading rooms. Consistent seating depths, powder charges and proprietary formulas of Choice Ammunition, make this 225 grain Nosler AccuBond round the best you can buy on the commercial market today.
The Bullet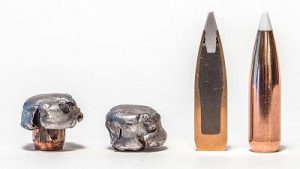 Through an exclusive bonding process that eliminates voids in the bullet core, AccuBond couples Nosler's proven copper-alloy jacket with its special lead-alloy core. The result is a bullet that flies true, penetrates deep and retains its weight, without causing extensive barrel fouling. The unique white polymer tip resists deforming and initiates expansion on impact. Nosler's Solid Base at the rear of the bullet acts as a platform for large diameter mushrooms.
Velocity  2,927 fps
100% Hand Loaded