Description
.308 WINCHESTER 178 grain Hornady ELD-M- The .308 Winchester is a rimless, bottlenecked  rifle cartridge and is the commercial cartridge from which the 7.62x51mm NATOround was derived. The .308 Winchester was introduced in 1952, two years prior to the NATO adoption of the 7.62×51mm NATO T65.  Winchester branded the cartridge and introduced it to the commercial hunting market as the .308 Winchester. Winchester's Model 70, Model 100 and  Model 88 rifles were subsequently chambered for the new cartridge. The .308 Winchester is one of the most popular hunting cartridges in the United States, and possibly the world. It has gained popularity in many countries as an exceptional cartridge for game in the medium- to large-sized class. In North America it is used extensively on whitetail deer, pronghorn and even the occasional caribou or black bear.
Clay Harvey, an American gun writer, says it is usable on moose and elk. Layne Simpson, an American who has hunted in Sweden, says he is surprised how many hunters there use the cartridge. Craig Boddington was told by a Norma Precision executive that the .308 Winchester is one of Norma's best-selling calibers. In Africa the .308 Winchester is one of the most popular calibers among Bushveld hunters and is used on anything from duiker right up to the massive eland (a small and large African antelope respectively). Proponents of the hydrostatic shock theory contend that the .308 Winchester has sufficient energy to impart hydrostatic shock to living targets when rapidly expanding bullets deliver a high rate of energy transfer.
While .308 Winchester has traditionally been the most popular cartridge in the past, the development of lighter recoil chamberings with sufficient downrange energy, like the 7mm-08 Remington, .260 Remington, and 6.5 Creedmoor, is becoming more common for metallic silhouette shooting.[
It is also used for target shooting, metallic silhouette, bench rest target shooting, palma, metal matches, military sniping, and police sharpshooting. The relatively short case makes the .308 Winchester especially well-adapted for short-action rifles.
Choice Ammunition has taken our 100% hand-loading techniques and produce an extremely accurate, highly dependable round for the .308 Winchester in this load. Our loading tolerances are only matched by passionate hand-loaders in their own loading rooms. Consistent seating depths, powder charges and proprietary formulas of Choice Ammunition, make this 178 grain Hornady ELD-M round the best you can buy on the commercial market today.
The Bullet-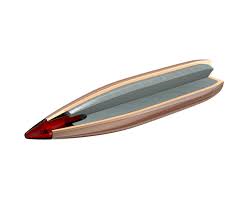 ELD® Match (Extremely Low Drag Match) bullets are technologically advanced, enhanced accuracy target bullets featuring Heat Shield® tips with the PERFECT MEPLAT (tip point) combined with numerous design features that deliver the highest-in-class ballistic coefficients, superior accuracy and extreme consistency from bullet to bullet, lot to lot.
Superior accuracy and industry leading ballistic design has been achieved with the ELD Match bullet. An optimum secant ogive and boattail design along with the Heat Shield tip produce a bullet with the highest possible ballistic coefficient in its class.
Velocity 2,640 fps
100% Hand Loaded