Description
.300 Winchester Magnum 190 Grain Barnes LRX (Lead Free)~ The .300 Winchester Magnum (also known as .300 Win Mag or 300WM) (7.62×67mm) is a belted, bottlenecked magnum rifle cartridge that was introduced by Winchester Repeating Arms Company in 1963. The .300 Winchester Magnum is a magnum cartridge designed to fit in a standard rifle action. It is based on the .375 H&H Magnum, which has been blown out, shortened, and necked down to accept a .30 caliber (7.62 mm) bullet. 
The .300 Winchester is extremely versatile and has been adopted by a wide range of users including hunters, target shooters, military units, and law enforcement departments. Hunters found the cartridge to be an effective all-around choice with bullet options ranging from the flatter shooting 165 grain to the harder hitting 200+ grain selections available from the factory. The .300 Win Mag remains the most popular .30 caliber magnum with American hunters, despite being surpassed in performance by the more powerful .300 and .30-378 Weatherby Magnums and the newer .300 Remington Ultra Magnum. It is a popular selection for hunting moose, elk, and bighorn sheep as it can deliver better long range performance with better bullet weight than most other .30 caliber cartridges. Military and law enforcement departments adopted the cartridge for long range sniping and marksmanship. As a testament to its accuracy, since its introduction it has gone on to win several 1,000-yard (910 m) competitions.
Choice Ammunition has introduced the 190 grain Barnes LRX leaf-free in .300 Winchester Magnum with the same 100% hand-loading techniques as our other calibers. Our loading techniques and extremely tight tolerances are only matched by passionate hand-loaders in their own loading rooms. Our consistencies box to box and lot to lot, are created by continuous testing at the range- adjusting varied powder and brass lot formulas to match exact velocities and points of impact as the last time we loaded this caliber. Exact seating depths and our proprietary load formulas produce a round of ammunition you can count on for accuracy and dependability each and every time- and at that critical moment in the field when it all comes down to the shot!
The Bullet-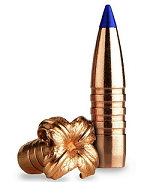 The Long-Range X Bullet (LRX) line is designed after the best-selling Tipped Triple-Shock X Bullet, the LRX bullet design increases Ballistic Coefficient values by increasing ogive and boat tail lengths to improve the bullets' long-range ballistic performance. For the hunter who is confident in long-range hunting, the LRX will fill the niche of this new hunting craze. LRX bullets will continue to be manufactured with the proven 100-percent copper, lead-free bodies. The bullet's polymer tip initiates expansion, causing the nose cavity to open instantly on contact doubling the bullet's original diameter while creating four cutting petals that wreak extensive internal damage. Exceptional performance means clean, quick kill.
Velocity 3,032 fps
100% Hand-Loaded