Description
.300 Winchester Magnum 180 Grain Swift Scirocco~ The .300 Winchester Magnum (also known as .300 Win Mag or 300WM) (7.62×67mm) is a belted, bottlenecked magnum rifle cartridge that was introduced by Winchester Repeating Arms Company in 1963. The .300 Winchester Magnum is a magnum cartridge designed to fit in a standard rifle action. It is based on the .375 H&H Magnum, which has been blown out, shortened, and necked down to accept a .30 caliber (7.62 mm) bullet. 
The .300 Winchester is extremely versatile and has been adopted by a wide range of users including hunters, target shooters, military units, and law enforcement departments. Hunters found the cartridge to be an effective all-around choice with bullet options ranging from the flatter shooting 165 grain to the harder hitting 200+ grain selections available from the factory. The .300 Win Mag remains the most popular .30 caliber magnum with American hunters, despite being surpassed in performance by the more powerful .300 and .30-378 Weatherby Magnums and the newer .300 Remington Ultra Magnum. It is a popular selection for hunting moose, elk, and bighorn sheep as it can deliver better long range performance with better bullet weight than most other .30 caliber cartridges. Military and law enforcement departments adopted the cartridge for long range sniping and marksmanship. As a testament to its accuracy, since its introduction it has gone on to win several 1,000-yard (910 m) competitions.
Choice Ammunition, and our 100% Hand-Loading techniques- produce a round of ammunition for the .300 Winchester Magnum that is demanded in big game hunting. Accuracy, consistency and dependability are crucial at that final moments of your hunt. Choice Ammunition takes this responsibility seriously by meticulously weighing each powder charge with our proprietary formulas and temperature insensitive powders, seating the bullet at the exact length for optimal performance and test firing each and every lot of ammunition at an average of 500% over industry average. We have no high speed production machines- only passionate and dedicated load technicians pulling each and every handle, producing one round of ammunition at a time. 
The Bullet: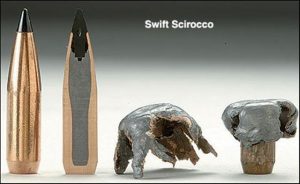 The Swift Scirocco bonded is the perfect bullet design for today's fast, flat-shooting long range cartridges. Its secant ogive, 15 degree boat tail base and polymer tip create a sleek, aerodynamic profile that helps maintain down-range velocities and flat trajectories. The extra heavy tapering jacket wall with an internally bonded lead core provides structural integrity, reliable expansion and penetration with over 70% weight retention.
Velocity 3,032 fps
100% Hand Loaded