Description
.300 AAC Blackout Lead Free Barnes 110 grain TAC-TX- The .300 AAC Blackout (designated as the 300 BLK by the SAAMI and 300 AAC Blackout by the C.I.P.), also known as 7.62×35mm is a carbine cartridge developed in the United States by Advanced Armament Corporation (AAC) for use in the M4 carbine. Its purpose is to achieve ballistics similar to the 7.62×39mm Soviet cartridge in an AR-15 while using standard AR-15 magazines at their normal capacities. It can be seen as a SAAMI-certified copy of J. D. Jones' wildcat .300 Whisper. Care should be taken not to use 300 BLK ammunition in a rifle chambered for 7.62×40mm Wilson Tactical.
Robert Silvers, director of research and development for AAC said, "We started development in 2009, but most of the work was done in 2010. A military customer wanted a way to be able to shoot .30-cal. bullets from an M4 platform while using normal bolts and magazines, and without losing the full 30-round capacity of standard magazines. They also wanted a source for ammunition made to their specs. We could not have just used .300-.221 or .300 Whisper because Remington is a SAAMI company, and will only load ammunition that is a SAAMI-standard cartridge. We had to take the .300-221 wildcat concept, determine the final specs for it, and submit it to SAAMI. We did that, and called it the .300 AAC Blackout (.300 BLK)."
300 AAC BLACKOUT was approved by SAAMI on January 17, 2011.
Choice Ammunition has taken our 100% hand-loading techniques and produce an extremely accurate, highly dependable round for the .300 AAC Blackout in this load. Our loading tolerances are only matched by passionate hand-loaders in their own loading rooms. Consistent seating depths, powder charges and proprietary formulas of Choice Ammunition, make this 110 grain Lead Free Barnes TAC-TX round the best you can buy on the commercial market today. 
The Bullet: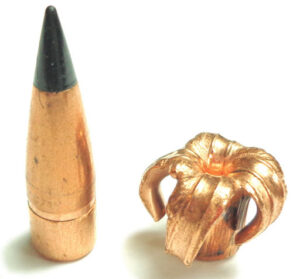 Like the TAC-X bullet, the TAC-TX bullets offers controlled double-diameter expansion, maximum penetration and full functionality at long ranges. The only difference between the X and the TX is the polymer tip that increases the Ballistic Coefficient for better long-range ballistics. Composed entirely of copper, these bullets have high weight retention and exhibit excellent performance when shot through barriers. Designed specifically for Military and Law Enforcement customers, these bullets function flawlessly in AR-type rifles.
ATTENTION RESIDENTS OF CALIFORNIA: These bullets are certified by the State of California to be in compliance with the California Lead-Free Ban and meet the criteria under the Condor Preservation Act.
Velocity 2,300 fps
100% Hand Loaded