Description
280 Ackley Improved 150 Grain Swift Scirocco– The primary difference between the standard .280 Rem. and the .280 Ackley Improved is the steeper 40 degree, which lengthens the case body and allows for about 5 percent more powder capacity. When P.O. Ackley gave the .280 Remington a steep 40-degree shoulder and straightened out most of the cartridge case's body taper, he likely knew he was on to something special. However, it's doubtful he anticipated that more than a half-century later, his .280 Ackley Improved cartridge would blossom into a favorite of savvy open-country hunters across the West.
Decades ahead of his time in cartridge design, Ackley became a household name for his work, at least among cartridge enthusiasts. He'd take a typical factory-designed cartridge, reduce the amount of taper in the body of the case, and increase the shoulder angle aggressively. These modifications resulted in added capacity, which increased velocity, and less case stretch, which resulted in longer case life. The .280 AI's additional case capacity does good things, but it doesn't change laws of physics. With equal barrel lengths, the Ackley Improved version gets you about 100 additional fps of velocity with a 140-grain bullet and a 24-inch barrel.
Choice Ammunition, and our 100% Hand-Loading techniques- produce a round of ammunition for the .280 Ackley Improved that is demanded in big game hunting. Accuracy, consistency and dependability are crucial at that final moments of your hunt. Choice Ammunition takes this responsibility seriously by meticulously weighing each powder charge with our proprietary formulas and temperature insensitive powders, seating the bullet at the exact length for optimal performance and test firing each and every lot of ammunition at an average of 500% over industry average. We have no high speed production machines- only passionate and dedicated load technicians pulling each and every handle, producing one round of ammunition at a time. 
he Bullet: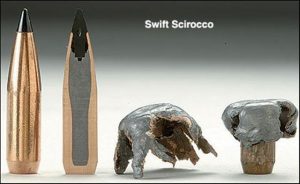 The Swift Scirocco bonded is the perfect bullet design for today's fast, flat-shooting long range cartridges. Its secant ogive, 15 degree boat tail base and polymer tip create a sleek, aerodynamic profile that helps maintain down-range velocities and flat trajectories. The extra heavy tapering jacket wall with an internally bonded lead core provides structural integrity, reliable expansion and penetration with over 70% weight retention.
Velocity 3,050 fps
100% Hand Loaded