Description
26 Nosler 147 Grain Hornady ELD-M~ The 26 Nosler is designed as a modern 6.5mm cartridge, using recent advances in firearm technology to attain exceptionally high muzzle velocities (up to 3,400 ft/s (1,040 m/s)) and maintain an extremely flat trajectory. The overall cartridge length of 3.340 inches (84.8 mm) is the same as that of the .30-06 Springfield, allowing the use of widely available standard-length actions.
All four of Nosler's Cartridges the .26 Nosler, .28 Nosler, .30 Nosler, and .33 Nosler are based on the same .404 Jeffery parent case. While the 26 and 28 Nosler share the same cartridge case dimensions, the 30 Nosler has a slightly shorter length to the shoulder dimension than the 26 and 28, and the 33 Nosler has a shorter shoulder dimension yet than that of the 30 Nosler.
Nosler claimed that the .26 Nosler was the most powerful commercial 6.5mm cartridge in the world, however since the release of the 6.5-300 Weatherby Magnum in 2016 it is the 2nd most powerful 6.5mm cartridge. 
Choice Ammunition has taken our 100% hand-loading techniques and produce an extremely accurate, highly dependable round for the 26 Nosler in this load. Our loading tolerances are only matched by passionate hand-loaders in their own loading rooms. Consistent seating depths, powder charges and proprietary formulas of Choice Ammunition, make this 147 Grain Hornady ELD-M round the best you can buy on the commercial market today.
The Bullet-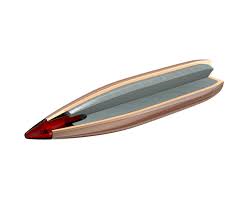 ELD® Match (Extremely Low Drag Match) bullets are technologically advanced, enhanced accuracy target bullets featuring Heat Shield® tips with the PERFECT MEPLAT (tip point) combined with numerous design features that deliver the highest-in-class ballistic coefficients, superior accuracy and extreme consistency from bullet to bullet, lot to lot.
Superior accuracy and industry leading ballistic design has been achieved with the ELD Match bullet. An optimum secant ogive and boattail design along with the Heat Shield tip produce a bullet with the highest possible ballistic coefficient in its class.
Velocity 3,205 fps
100% Hand Loaded