Description
9mm 124 Grain Black HI-TEK coated lead cast RN- 9mm and 9mm Luger are the same. You can use them interchangeably. SAAMI officially designated the name "9mm Luger" as the official designation ammo. So, 9mm Luger is the most common name you'll see listed by manufacturers and ammunition stores.
Easily one of the most popular categories of handguns for Defense concealed carry — if not the most popular — is the 9mm single stack. The role of 9mm Luger started in World War I and its continued popularity today testifies to its capabilities as an effective and efficient handgun cartridge.
It makes a lot of sense: It's light, slim, easy to control, is quicker to reload than a .38 snub nose, and offers more punch than a comparatively sized .380 pocket pistol. Self-defense is crucial for anyone and this is the reason you find many people today having a licensed firearm with them. They can always take action when the time comes to defend themselves.
The rule about having such a gun is that it has to be concealed and many find the 9mm to be the ideal for these reasons. The 9mm is a weapon that provides a good balance between ease of firing and stopping power. It is a lightweight pistol that has moderate recoil with less chance of over penetration.
Choice Ammunition takes our role very seriously when we manufacture our hand-loaded rounds for the 9mm. Reliable and consistent practice ammunition leads to confidence and efficiency should the time ever come to protect yourself or loved ones, or property.
The Bullet: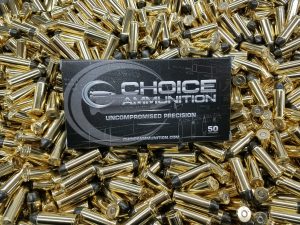 We use a unique heat-set "HI-TEK Supercoat" manufactured in Australia, where it has been used for more than 20 years. The Hi-Tek Supercoat Bullet Coating totally encapsulates the lead projectiles. Hi-Tek Supercoat bullets are safe to shoot indoors.  The coating gives off no toxic out-gassing or particulate matter when fired. The coating is absolutely nonabrasive and contains no PTFE or MOLY. There is no wax lube and it minimizes your exposure to lead. The end result is cleaner air, cleaner hands, cleaner equipment and cleaner guns!
Check out a video of the Hi-Tek coating process here and see why you might want us to do it for you!!
Our bullets greatly reduce the amount of smoke normally associated with cast bullets
Lead fouling of the bore is drastically reduced or in most cases, eliminated completely
Our coating gives off no toxins or particulate matter when fired
Is 100% non abrasive and contains no PTFE or MOLY
They are completely safe to use in Glock's polygonal rifled barrels
Greatly minimizes your exposure to lead
Velocity: 1,131 fps.