Description
7MM Winchester Short Magnum (WSM)168 grain Berger VLD-Hunting- The 7mm Winchester Short Magnum is a twenty-eight caliber centerfire rifle cartridge developed in partnership with Browning Arms Company and Winchester, making its debut and introduced to the shooting public in 2001. The new 7mm short magnum cartridge is chambered in Winchester's Model 70 bolt action rifle. The 7mm WSM is a commercial cartridge based on the 404 jeffery cartridge case, shortening to 2.100″ and necking down to .284″ caliber and sharpening the shoulder angle to 35 degrees. The 7mm WSM cartridge achieves its useful purpose as an excellent long range cartridge for, mule deer, sheep, black bear and elk, .284″ caliber is a time proven caliber for elk and deer size game animals.
The 7mm WSM cartridge is a well thought out cartridge as Winchester is no stranger in .284″ caliber cartridge development. Winchester has now developed 2 cartridges in this caliber; (284 Winchester in 1963), and (7mm WSM in 2001). The 7mm WSM loadings show a velocity of 2900 feet per second for a 168 grain bullet for deer and sheep hunting and this translates to moderate recoil for the shooter with plenty of bullet energy at the 500 yard mark to flatten a larger deer size animal.
The 7mm WSM cartridge, chambered in a short actioned light-weight rifle may well be the ultimate combination for a superb mountain rifle, that offers a slight increase in bullet frontal mass and energy than that offered by the 270 WSM in rugged terrain and most rifles chambered in this cartridge show plenty of accuracy with long range 160 grain weight bullets.
Choice Ammunition has taken our 100% hand-loading techniques and produce an extremely accurate, highly dependable round for the 7mm Winchester Short Magnum (WSM) in this load. Our loading tolerances are only matched by passionate hand-loaders in their own loading rooms. Consistent seating depths, powder charges and proprietary formulas of Choice Ammunition, make this 168 grain Berger VLD-Hunting round the best you can buy on the commercial market today.
The Bullet-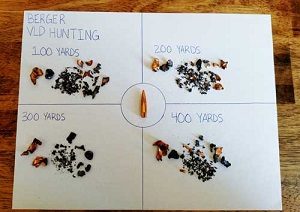 The Berger VLD Hunting bullet line features Very Low Drag (VLD) bullets that have the highest possible ballistic coefficient designed for 300 yards or more, the design incorporates a sharp nose that allows the bullet to penetrate 2″ to 3″ before it starts to expand. After the initial expansion, the bullet will shed between 40% and 85% of its weight as shrapnel into the surrounding tissue (internal organs). The combination between the shrapnel and the hydrostatic shock produces a massive wound cavity within the vital area that will be 13″ – 15″ long. This massive wound cavity results in the animal dropping fast since most go into shock after such a tremendous blow. Those animals that don't go down immediately will soon succumb to blood pressure loss and/or organ failure producing a quick ethical kill.
Velocity: 2900 fps
100% Hand-Loaded