Description
7mm Remington Ultra Mag (RUM) 145 Grain Barnes LRX (lead free)- Inspired by the Lazzeroni proprietary cartridges, Remington introduced the 7mm Remington Ultra magnum in 2000. The 7mm RUM is based on the .300 Remington Ultra Magnum (1999) which is in turn based on a grossly modified version of the unbelted 404 Jeffery's case. The RUM was designed to produce ultra high velocities to meet the growing demand for long range hunting rifles and cartridges.  The 7mm RUM is an outstanding performer on medium game, producing absolutely emphatic kills out to 800 yards and clean kills out to and beyond 1000 yards at which range speed of killing is dependent on target resistance to aid bullet expansion.
Choice Ammunition has introduced the 7MM Remington Ultra Magnum (RUM) in the 145 Grain Lead Free Barnes LRX round, with the same 100% hand-loading techniques as our other calibers. Our loading techniques and extremely tight tolerances are only matched by passionate hand-loaders in their own loading rooms. Our consistencies box to box and lot to lot, are created by continuous testing at the range- adjusting varied powder and brass lot formulas to match exact velocities and points of impact as the last time we loaded this caliber. Exact seating depths and our proprietary load formulas produce a round of ammunition you can count on for accuracy and dependability each and every time- and at that critical moment in the field when it all comes down to the shot!
The Bullet-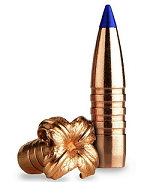 The Long-Range X Bullet (LRX) line is designed after the best-selling Tipped Triple-Shock X Bullet, the LRX bullet design increases Ballistic Coefficient values by increasing ogive and boat tail lengths to improve the bullets' long-range ballistic performance. For the hunter who is confident in long-range hunting, the LRX will fill the niche of this new hunting craze. LRX bullets will continue to be manufactured with the proven 100-percent copper, lead-free bodies. The bullet's polymer tip initiates expansion, causing the nose cavity to open instantly on contact doubling the bullet's original diameter while creating four cutting petals that wreak extensive internal damage. Exceptional performance means clean, quick kill.
Velocity 3,325 fps
100% Hand-Loaded