Description
7mm-08 145 Grain Barnes LRX (Lead-Free)~ The 7mm-08 Remington works in most hunting environments, including dense forest areas and large open fields. Of cartridges based upon the .308, it is the second most popular behind only the .243 Winchester. It has a flatter trajectory than the .308 Win. and .30-06 Springfield at similar bullet weights because the slightly smaller-diameter 7mm bullet generally has a better ballistic coefficient (BC), and is thus less affected by drag and crosswind while in flight. Its trajectory is comparable to the .270 Winchester.
Its recoil is a bit more than a .243 Win. and less than most loads in a .308 Win. This mild recoil makes it suitable for youth and adults who are new shooters; however, the cartridge serves experienced shooters and hunters equally well.
Choice Ammunition is proud to release the Barnes LRX Triple Shock for our 7mm-08! Our 100% Hand-Loaded, premium ammunition is perfect to compliment this caliber. You will find our proprietary formula to be loaded with extremely tight loading tolerances, providing the most reliable, accurate and dependable round of ammunition available. 
The Bullet-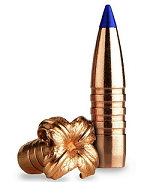 The Long-Range X Bullet (LRX) line is designed after the best-selling Tipped Triple-Shock X Bullet, the LRX bullet design increases Ballistic Coefficient values by increasing ogive and boat tail lengths to improve the bullets' long-range ballistic performance. For the hunter who is confident in long-range hunting, the LRX will fill the niche of this new hunting craze. LRX bullets will continue to be manufactured with the proven 100-percent copper, lead-free bodies. The bullet's polymer tip initiates expansion, causing the nose cavity to open instantly on contact doubling the bullet's original diameter while creating four cutting petals that wreak extensive internal damage. Exceptional performance means clean, quick kill.
Velocity 2,782 fps
100% Hand-Loaded