Description
7mm-08 150 grain Berger Classic Hunter~ The 7mm-08 Remington works in most hunting environments, including dense forest areas and large open fields. Of cartridges based upon the .308, it is the second most popular behind only the .243 Winchester. It has a flatter trajectory than the .308 Win. and .30-06 Springfield at similar bullet weights because the slightly smaller-diameter 7mm bullet generally has a better ballistic coefficient (BC), and is thus less affected by drag and crosswind while in flight. Its trajectory is comparable to the .270 Winchester.
Its recoil is a bit more than a .243 Win. and less than most loads in a .308 Win. This mild recoil makes it suitable for youth and adults who are new shooters; however, the cartridge serves experienced shooters and hunters equally well.
Choice Ammunition is proud to release the Berger Classic Hunter for our 7mm-08! Our 100% Hand-Loaded, premium ammunition is perfect to compliment this caliber. You will find our proprietary formula to be loaded with extremely tight loading tolerances, providing the most reliable, accurate and dependable round of ammunition available. 
The Bullet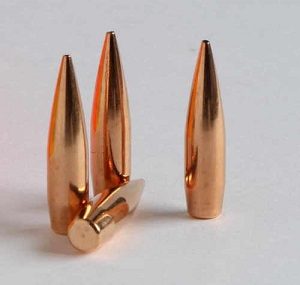 The Berger Classic Hunter Series is designed for the discriminating shooter and outdoorsman who insists that his loaded rounds function flawlessly through any rifle magazine. Berger Classic Hunters are tailored specifically for factory rifle applications where SAAMI length loaded rounds are a must, and they are offered in select weights that provide exceptional downrange performance in today's factory rifles. No custom barrels, special twist rates or reloading tricks are needed to achieve cutting-edge results.
Classic Hunter ballistic coefficients (BC's) exceed other market offerings due to the unique ogive properties provided by our innovative hybrid-shaped bullet nose. The hybrid design combines the best of both tangent and secant ogive features, resulting in optimal ballistic performance with less sensitivity to bullet seating depth. Easy to load and shoot, the Classic Hunter Series include Berger match-grade quality materials and award-winning results. This is not loaded ammunition.
Velocity 2,778 fps
100% Hand Loaded