Description
6.5 PRC 147 Grain Hornady ELD-M (match)- This short-action magnum cartridge – 6.5 PRC – is an excellent hunting and long-range target cartridge.
Over a century after Scandinavia discovered the merits of 6.5mm projectiles, the United States has finally caught on. And just perhaps, the 6.5mm Precision Rifle Cartridge (6.5 PRC) is the finest all-around one.  The 6.5 PRC is a short–action magnum cartridge that pairs the exceptional aerodynamics of 0.264-inch-diameter projectiles with an efficient not-quite-overbored powder chamber. The parent case is the .375 Ruger—also basically a .300 RCM necked down to 6.5 mm. In other words, it's a factory-produced, SAAMI-approved ballistic twin to the 6.5 SAUM and similar wildcats. Formally adopted by the Sporting Arms and Ammunition Manufacturers' Institute (SAAMI) at its June 2018 meeting, we are thrilled to introduce our hand-loads for this caliber now! Velocities run neck and neck with traditional .264 Winchester Magnum speeds and are achieved courtesy of the shorter, fatter, more efficient, effective, consistent-burning powder column. Pleasant side-effects of the efficiency are less recoil, better barrel life, and good performance in 24-inch barrels.
Choice Ammunition has taken our 100% hand-loading techniques and produce an extremely accurate, highly dependable round for the 6.5 PRC in this load. Our loading tolerances are only matched by passionate hand-loaders in their own loading rooms. Consistent seating depths, powder charges and proprietary formulas of Choice Ammunition, make this 147 Grain Hornady ELD-M round the best you can buy on the commercial market today.
The Bullet-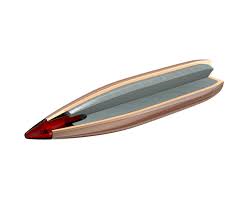 ELD® Match (Extremely Low Drag Match) bullets are technologically advanced, enhanced accuracy target bullets featuring Heat Shield® tips with the PERFECT MEPLAT (tip point) combined with numerous design features that deliver the highest-in-class ballistic coefficients, superior accuracy and extreme consistency from bullet to bullet, lot to lot.
Superior accuracy and industry leading ballistic design has been achieved with the ELD Match bullet. An optimum secant ogive and boattail design along with the Heat Shield tip produce a bullet with the highest possible ballistic coefficient in its class.
Velocity 2,920 fps
100% Hand Loaded