Description
6.5-300 Weatherby Magnum 127 grain Barnes LRX (long range)-  The 6.5-300 Weatherby Magnum is a 6.5mm cartridge created by Weatherby in 2016 as its own rendition to the ever-growing 6.5mm long range rifle market. Named the 6.5-300 Weatherby Magnum, the new hot-rod round is simply the .300 Weatherby Magnum necked down to 6.5mm (0.264 inch). As the newest in Weatherby's lineup this cartridge is designed to be in direct competition to the 26 Nosler and Claimed by Weatherby to be the fastest 6.5mm cartridge available. Designed in a similar fashion as other Weatherby cartridges it has a large for caliber case capacity resulting in high velocities. When bullets with high ballistic coefficients are used trajectories are extremely flat, allowing the projectile to retain a significant amount of energy downrange. These attributes make the 6.5-300 quite effective for long range hunting on medium-sized game.
Choice Ammunition has taken our 100% hand-loading techniques and produce an extremely accurate, highly dependable round for the 6.5 CREEDMOOR in this load. Our loading tolerances are only matched by passionate hand-loaders in their own loading rooms. Consistent seating depths, powder charges and proprietary formulas of Choice Ammunition, make this 127 Grain Barnes LRX Lead Free round the best you can buy on the commercial market today.
The Bullet-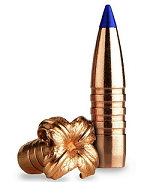 The Long-Range X Bullet (LRX) line is designed after the best-selling Tipped Triple-Shock X Bullet, the LRX bullet design increases Ballistic Coefficient values by increasing ogive and boat tail lengths to improve the bullets' long-range ballistic performance. For the hunter who is confident in long-range hunting, the LRX will fill the niche of this new hunting craze. LRX bullets will continue to be manufactured with the proven 100-percent copper, lead-free bodies. The bullet's polymer tip initiates expansion, causing the nose cavity to open instantly on contact doubling the bullet's original diameter while creating four cutting petals that wreak extensive internal damage. Exceptional performance means clean, quick kill.
Velocity 3,352 fps
100% Hand-Loaded