Description
.460 Smith & Wesson Magnum 240 Grain Hornady XTP mAGNUM- The .460 S&W round is a lengthened, more powerful version of the popular .454 Casull, itself a longer and more powerful version of the .45 Colt. For this reason, the .460 S&W Magnum could be considered an example of a "super magnum". Consequently, firearms that fire .460 S&W are usually capable of firing the less powerful .454 Casull, .45 Colt and .45 Schofield rounds, but this must be verified with each firearm's manufacturer. For instance, some lever-action firearms are designed to handle cartridges within a certain length and bullet profile range. The reverse, however, does not apply: .45 Schofield, .45 Colt and .454 Casull handguns generally cannot safely fire .460 S&W rounds—nor can they even chamber the .460 S&W because of the longer case length. It is also the most versatile big bore revolver being able to fire four standardized cartridges, as well as lesser known rimmed and straightwall cartridges of .45 caliber that predate the .45 Colt. The .460 Smith and Wesson Magnum is built to handle both long-range hunting and Dangerous Game hunting and defensive performance.
The .460 cartridge achieves high velocities by operating at chamber pressures (65,000 psi max) normally reserved for magnum rifle cartridges. The recoil when shooting .45 Colt ammunition out of the S&W .460 firearm is comparable to recoil from a 9mm or .380 load, due to the weight of the gun and lower chamber pressures. On the contrary, when loaded with .460 S&W Magnum cartridges utilizing 300 grain bullets, the recoil is more likely to feel like "three times" that of what a .44 Magnum's recoil would be!
Choice Ammunition, and our 100% Hand-Loading techniques- produce a round of ammunition for the .460 Smith & Wesson that is demanded for long-range pistol, big game and dangerous game hunting. Accuracy, consistency and dependability are crucial at that final moments of such an encounter. Choice Ammunition takes this responsibility seriously by meticulously weighing each powder charge with our proprietary formulas and temperature insensitive powders, seating the bullet at the exact length for optimal performance and test firing each and every lot of ammunition at an average of 500% over industry average. We have no high speed production machines- only passionate and dedicated load technicians pulling each and every handle, producing one round of ammunition at a time.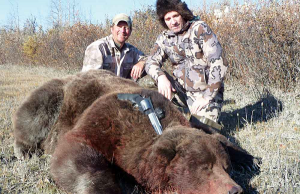 The Bullet~
eXtreme Terminal Performance — Magnum
Designed for personal defense and medium-game hunting, XTP® Mag™ bullets provide the same controlled expansion, accuracy and dependability that have made XTP® bullets a favorite among target shooters and hunters alike. But XTP® Mag™ bullets are designed to take things a step further — withstanding the higher velocities and impacts of ultra-powerful, magnum handguns while delivering even deeper penetration than standard XTP® bullets.
100% Hand-Loaded
Velocity 1,858 fps in 4.5″ bbl.