Description
.416 Rigby 400 grain Swift A-Frame- The .416 Rigby was designed in 1911 by John Rigby, of John Rigby & Company, as a dangerous game cartridge. It is the first to use a bullet with a diameter of 10.6 millimetres (0.416 in). The rifles, as built by John Rigby & Co., were initially made up on Mauser magnum-length actions, although in later years, some were made on standard length actions, a perfect example being the rifle used by legendary professional hunter Harry Selby. Other famous users of the cartridge were Commander David Enderby Blunt, John Taylor, and Jack O'Connor. Since the late 1980s, several .416 cartridges have come to the market. Among these, the .416 Remington Magnum, the .416 Ruger and the .416 Weatherby Magnum have garnered the most attention of the firearms press. Both the Ruger and Remington cartridges were designed to emulate the Rigby cartridge's performance level of a 400 gr bullet at 2,400 fps.
Until recently, the use of .416 cartridges was mostly confined to Africa, where they were used primarily on dangerous or "thick-skinned" large game such as rhino, elephant and Cape buffalo. The .416 Rigby would be considered overpowered for North American game species. However, the .416 Rigby does offer a greater insurance against polar bear, Alaskan brown bear, and useful for the hunting of American bison where allowed.
Choice Ammunition meticulously hand-loads 100% of our ammunition to insure superior performance, accuracy and reliability. These 400 grain Swift A-Frame rounds for the 416 Rigby are ideal for most dangerous game and large bodied animals. Don't compromise with "Factory" ammunition when it really counts! Choice Ammunition utilizes only the finest components and proprietary loading formulas meticulously assembled with temperature insensitive powders. This insures wherever your travels may take you- you can depend on our premium ammunition to close out your hunt.
The Bullet-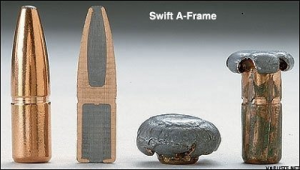 Swift A-Frame fans, here you go! For 28 years A-Frame rifle bullets have set the standard by which all bonded bullets are measured. With its controlled expansion of 2.2x and 95%+ weight retention A-Frame penetrates deep and mushrooms perfectly, making it the choice of hunters for use on any game, anywhere in the world. With our hand-loaded manufacturing process and tightest load tolerances in the industry, count on Choice Ammunition to provide the most accurate, reliable and consistent round available on the market today!
Velocity 2,400 fps
100% Hand Loaded