Description
.338 Lapua Magnum 285 Grain Barnes TSX (Lead Free)~ The .338 Lapua Magnum (8.6×70mm or 8.58×70mm) is a rimless, bottlenecked, centerfire rifle cartridge. It was developed during the 1980s as a high-powered, long-range cartridge for military snipers. It was used in the Afghanistan wart and the Iraq war. As a result of this, it became more widely available. The loaded cartridge is 14.93 mm (0.588 in) in diameter (rim) and 93.5 mm (3.68 in) long. It can penetrate better-than-standard military  body armour at ranges up to 1,000 metres (1,090 yd) and has a maximum effective range of about 1,750 metres
Not only is it a combat proven round, it is increasingly used by big game hunters and civilian long range shooting enthusiasts.
Choice Ammunition has taken our 100% hand-loading techniques and produce an extremely accurate, highly dependable round for the 338 Lapua in this load. Our loading tolerances are only matched by passionate hand-loaders in their own loading rooms. Consistent seating depths, powder charges and proprietary formulas of Choice Ammunition, make this 285 grain Barnes TSX lead-free round the best you can buy on the commercial market today.
The Bullet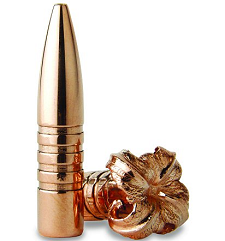 The Triple-Shock X Bullets (TSX) are made of 100% copper and contain no lead. When the bullet expands, four razor-sharp cutting petals are created, allowing the bullet to penetrate farther through tough bone and tissue. These bullets usually retain 100% of their original weight, making them a superb choice for hunting. This ammunition is new production, non-corrosive, in boxer-primed, reloadable brass cases.
Velocity:  fps
100% Hand-Loaded