Description
.300 Remington Ultra Mag (RUM) 150 Grain Swift Scirocco- The .300 Remington Ultra Magnum is one of the largest commercially available .30 caliber magnums currently being produced. It is a beltless, rebated rim cartridge, capable of handling all large North American game, as well as long-range shooting. Among commercially produced .30-caliber rifle chamberings, the .300 Remington Ultra Magnum is second only to the .30-378 Weatherby Magnum in cartridge-case capacity.
The .300 Remington Ultra Magnum is a member of the Remington Ultra Magnum cartridge family based on the .404 Jeffery via the Canadian Magnum cartridges. As these cartridges feature wider bodies than the belted magnums based on the .375 H&H case, these cartridges have greater case capacities than their corresponding full length belted Magnum cartridges such as the 7 mm Shooting Times Westerner, the .300 Weatherby Magnum, .340 Weatherby Magnum and the .375 Ackley Improved. The .300 RUM is an excellent long range cartridge with the ability to deliver a useful level of energy downrange especially with the power level III ammunition. Due to its high velocity it exhibits less bullet drop than most other .30 caliber (7.62 mm) cartridges.
Compared to other production .30 caliber (7.62 mm) cartridges, only the .30-378 Weatherby Magnum surpasses the .300 Remington Ultra Magnum.
Our 100% Hand-Loaded 150 grain Swift Scirocco rounds are loaded with extremely tight tolerances, producing highly accurate, consistent and reliable performance with each and every shot! Our proprietary load formulas and loading process create the finest round of ammunition available on the commercial market today we feel. If you don't load your own ammunition- let us do it for you!
The Bullet: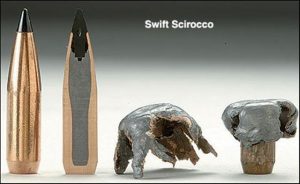 The Swift Scirocco bonded is the perfect bullet design for today's fast, flat-shooting long range cartridges. Its secant ogive, 15 degree boat tail base and polymer tip create a sleek, aerodynamic profile that helps maintain down-range velocities and flat trajectories. The extra heavy tapering jacket wall with an internally bonded lead core provides structural integrity, reliable expansion and penetration with over 70% weight retention.
Velocity 3,372 fps
100% Hand Loaded
These high-performance rounds provide excellent reliability, consistency, accuracy and stopping power for hunting most game.