Description
.300 AAC Blackout 190 grain SUB-X Subsonic- The .300 AAC Blackout (designated as the 300 BLK by the SAAMI and 300 AAC Blackout by the C.I.P.), also known as 7.62×35mm is a carbine cartridge developed in the United States by Advanced Armament Corporation (AAC) for use in the M4 carbine. Its purpose is to achieve ballistics similar to the 7.62×39mm Soviet cartridge in an AR-15 while using standard AR-15 magazines at their normal capacities. It can be seen as a SAAMI-certified copy of J. D. Jones' wildcat .300 Whisper. Care should be taken not to use 300 BLK ammunition in a rifle chambered for 7.62×40mm Wilson Tactical.
Robert Silvers, director of research and development for AAC said, "We started development in 2009, but most of the work was done in 2010. A military customer wanted a way to be able to shoot .30-cal. bullets from an M4 platform while using normal bolts and magazines, and without losing the full 30-round capacity of standard magazines. They also wanted a source for ammunition made to their specs. We could not have just used .300-.221 or .300 Whisper because Remington is a SAAMI company, and will only load ammunition that is a SAAMI-standard cartridge. We had to take the .300-221 wildcat concept, determine the final specs for it, and submit it to SAAMI. We did that, and called it the .300 AAC Blackout (.300 BLK)."
300 AAC BLACKOUT was approved by SAAMI on January 17, 2011.
Choice Ammunition Subsonic 300 AAC Blackout Ammo in the Hornady 190 Grain Sub-X Subsonic Flex Tip; This subsonic 300 AAC Blackout ammo offers a muzzle velocity of 1035 feet per second. The patented Hornady Flex Tip Expanding (FTX) bullet features an interlocking design that keeps the core of the bullet and the jacket together creating a deeper penetrating, more humane kill. Not only that, they offer controlled expansion, enhanced accuracy and the delivery of flatter trajectories. Featuring a soft polymer flex tip, it's tough enough to stand up to a jacketed bullet, but soft enough so it won't dent the primer of the round in front of it or cause accidental firing in a lever gun. Developed with long grooves, this subsonic bullet includes gilding metal jacket with the addition of a bullet's flat profile and the patented Flex Tip insert within its hollow-point cavity to help it expand reliably at low velocities.

Choice Ammunition has taken our 100% hand-loading techniques and produce an extremely accurate, highly dependable round for the .300 AAC Blackout in this subsonic load. Our loading tolerances are only matched by passionate hand-loaders in their own loading rooms. Consistent seating depths, powder charges and proprietary formulas of Choice Ammunition, make this 190 grain Sub-X round the best you can buy on the commercial market today. The expansion and weight retention of this subsonic round is remarkable.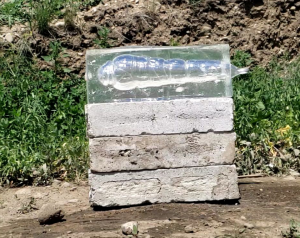 Testing conducted at Choice Ammunition above shows expansion and energy at 100 yards with our developed load in these .30 Caliber 190 Grain Sub-X® (Subsonic — eXpanding) bullets that deliver big results without a big bang! Designed to provide deep penetration below the speed of sound, Sub-X® features a lead core. The long grooves in its gilding metal jacket combine with its flat profile and the patented Flex Tip® insert within the bullet's hollow-point cavity to help it expand reliably at low velocities. This round is ideal for hog hunting, deer hunting and predators.
Velocity 1,035
100% Hand Loaded