Description
.280 caliber Remington 162 grain Hornady ELD-X~ The .280 Remington, also known as the 7mm-06 Remington and 7mm Express Remington, was introduced in 1957 for several Remington models. The .280 is based on the .30-06 necked down to accept 7 mm bullets, with the neck moved forward .050 in (1.27mm). The neck was deliberately moved forward to prevent chambering in a .270 Winchester rifle, as firing a .280 round in a .270 rifle could cause the projectile to get stuck in the barrel or rupture the barrel due to excessive pressure. The .280 Remington is capable of generating slightly higher velocities with a given bullet weight than the .270 Winchester, and also able to use heavier bullets due to the larger .284″ diameter. .284″ bullets also have higher ballistic coefficients at the top of the weight spectrum than .277″ bullets. The greater energy and higher ballistic coefficient of heavier .284″ bullets give the .280 Remington a slight ballistic advantage over the .270 Winchester.
Choice Ammunition has taken our 100% hand-loading techniques and produce an extremely accurate, highly dependable round for the .280 Remington in this load. Our loading tolerances are only matched by passionate hand-loaders in their own loading rooms. Consistent seating depths, powder charges and proprietary formulas of Choice Ammunition, make this 162 grain Hornady ELD-X round the best you can buy on the commercial market today.
The Bullet: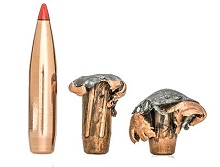 The Heat Shield tip of the Hornady ELD-X bullet defies the effects of aerodynamic heating and retains its shape to provide a perfect meplat (tip) that is always the same shape. A streamlined secant ogive with optimum boattail design, plus the highly concentric AMP bullet jackets, combined with the patent pending Heat Shield tip creates a supremely accurate, high BC match bullet. ELD-Match bullet BCs are measured with Doppler radar and corrected to standard atmospheric conditions. With high velocity, 0-400 yard impact, the bullet continually expands throughout its penetration path. The thick shank of the jacket and high Interlock ring keep the core and jacket together providing 50-60% weight retention. Upon low velocity, 400+ yard impacts, the Heat Shield tip drives backward into the bullet to initiate expansion. Exhibiting conventional expansion with a large mushroom and 85-90% retained weight the bullet provides deep penetration and large wound cavities.
Velocity 2800 fps
100% Hand Loaded