Description
.243 Winchester 90 Grain Nosler E-Tip (Lead Free) – The .243 Winchester (6×52mm) is a popular sporting rifle cartridge. Initially designed as a target/varmint round, it may be used for animals such as coyotes, blacktail deer, whitetail deer, mule deer, pronghorns, and wild hogs. It can also be used against larger animals such as black bears and elk but is sometimes said to be "too light" for such large animals. Rounds of at least 90 grains are better suited for hunting larger animals while rounds less than 90 grains are more suitable for varmints. The .243 is based on a necked down .308 cartridge case. It is very popular with target shooters, metallic silhouette, and long range shooters, because of its accuracy and low recoil. This cartridge was first introduced in 1955 for the Winchester Model 70 bolt-action and Model 88 lever-action sporting rifles and quickly gained popularity among sportsmen worldwide. Just about every major manufacturer offers rifles chambered in .243.
Choice Ammunition, and our 100% Hand-Loading techniques- produce a round of ammunition for the .243 Winchester that is demanded in big game hunting. Accuracy, consistency and dependability are crucial at that final moments of your hunt. Choice Ammunition takes this responsibility seriously by meticulously weighing each powder charge with our proprietary formulas and temperature insensitive powders, seating the bullet at the exact length for optimal performance and test firing each and every lot of ammunition at an average of 500% over industry average. We have no high speed production machines- only passionate and dedicated load technicians pulling each and every handle, producing one round of ammunition at a time. 
The Bullet: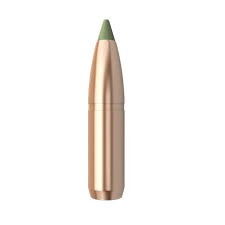 Nosler's E-Tip lead-free bullet features the same polycarbonate tip found on the popular AccuBond and Ballistic Tip bullets prevents deformation in the magazine, boosts aerodynamic efficiency, and initiates expansion, a highly concentric gilding metal frame and a precisely formed boat-tail for reduced drag and more down range energy. Specially designed Energy Expansion Cavity allows for immediate and uniform expansion while retaining 95%+ weight for improved penetration. Patent pending alloy reduces fouling while providing superior accuracy and consistent performance. This is not loaded ammunition.
ATTENTION RESIDENTS OF CALIFORNIA: This bullet is certified by the State of California to be in compliance with the California Lead-Free Ban and meets the criteria under the Condor Preservation Act.
Velocity 3,169 fps
100% Hand Loaded
G-1 BC 0.403