Description
.224 Valkyrie 88 Grain Hornady ELD-Match- The 224 Valkyrie cartridge is a rimless bottlenecked intermediate rifle cartridge that was developed by Federal Ammunition to rival the .22 Nosler while still running well in modern sporting rifles. Based on the 6.8 SPC case, shortened to 1.600-inch, the .224 Valkyrie uses a 30-degree shoulder for headspacing. The rimless case functions perfectly in the 6.8 SPC magazines for the AR-15 platform, and the overall cartridge length of 2.260 inches coincides with that magazine dimension.
In order to fill a need for a long range "small platform" Modern Sporting Rifle, the proven 6.8 SPC case is necked it down to utilize a .224 projectile. Prior to this, the ability to compete at long range (1000+ yards) was dominated in competition by the large frame MSR's, primarily in .308 Winchester and 6.5mm Creedmoor. Looking to fill the gap between .22 caliber rounds and the ever popular 6.5 Creedmoor, the new .224 Valkyrie round pushes 1300 yards with flat trajectories and match-grade accuracy.
The Valkyrie sits comfortably between the .223 Remington and the 6mms in that they can happily do double duty on varmints and deer alike. The Valkyrie gives up a bit of bullet weight to the .243 Winchester, 6mm Remington and 6mm Creedmoor, yet it does make a good target gun. The lighter loads are smartly designed for the predator hunter; they're sandwiched between .223 and .22-250 as far as performance goes, and that's not a bad place to be. The caliber also has significantly reduced recoil compared to any other cartridge with similar ballistics.
Our 100% Hand-Loaded 88 Grain Hornady ELD-Match rounds are loaded with extremely tight tolerances, producing highly accurate, consistent and reliable performance with each and every shot for the .224 Valkyrie! Our proprietary load formulas and loading process create the finest round of ammunition available on the commercial market today we feel. If you don't load your own ammunition- let us do it for you!
The Bullet: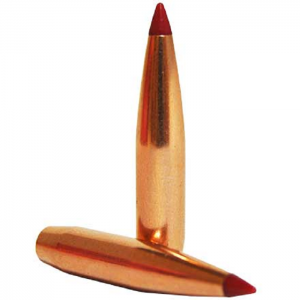 Since its introduction in 2003, Barnes' TSX Bullet has earned a reputation as "the perfect hunting bullet." This lead-free, 100% copper-constructed bullet provides extreme penetration every time. Typically, this premium hunting bullet retains 100% of its original weight even after smashing through dense tissue and heavy bone. The Triple – Shock bullet design incorporates a series of precisely positioned rings cut into the bullet's body. These grooves relieve firing pressure, allowing the TSX to be safely loaded to higher velocities while reducing copper fouling. The bonus is that this is one of the most accurate hunting bullets you can buy.
Velocity  2,666 fps
100% Hand-Loaded