Description
.223 Remington 50 Grain Speer TNT Hollow Point with LAPUA BRASS!~ The development of the cartridge which eventually became the .223 Remington was intrinsically linked to the development of a new lightweight combat rifle. The cartridge and rifle were developed by Fairchild Industries, Remington Arms and several engineers working toward a goal developed by U.S. Continental Army Command (CONARC). Early development work began in 1957. A project to create a small caliber high velocity (SCHV) firearm was created. Eugene Stoner of ArmaLite was invited to scale down the AR-10 (7.62 mm) design. Winchester was also invited to participate. The parameters requested by CONARC were:
.22 caliber
Bullet exceeding supersonic speed at 500 yards 
Rifle weight 6 lbs
Magazine capacity of 20 rounds
Select fire for both semi-automatic and fully automatic use
Penetration of US steel helmet one side, at 500 yards
Penetration of .135″ steel plate at 500 yards
Accuracy and ballistics equal to M2 ball ammunition (.30-06 M1 Garand)
Wounding ability equal to the M1 Carbine
Our 100% Hand-Loaded 50 grain TNT rounds are loaded with extremely tight tolerances, producing highly accurate, consistent and reliable performance with each and every shot! Our proprietary load formulas and loading process create the finest round of ammunition available on the commercial market today we feel. If you don't load your own ammunition- let us do it for you!
The Bullet: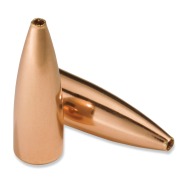 Speer created its first bullet more than 70 years ago, and today, the company still manufactures superior components, such as Speer TNT Varmint Bullets. Specific to varmint shooting, these bullets are a cut above the rest.
TNT gives you what you want most-superior on-game performance. Starting with TNT's thin precision jacket, Speer added internal fluting and a dead-soft lead core to ensure complete bullet disruption. Speer finishes the forming with a long ogive and a small hollow point. This gives you the ballistic coefficients needed for long shots. In fact, TNT's coefficients rival those of similar boat tail bullets. In a little over ten years, TNT has become a best seller. Why? Great accuracy and impressive terminal performance. These TNT Bullets are explosive and accurate. TNT gives you what you want most—superior on-game performance. A thin precision jacket and internal fluting ensures complete bullet disruption. Because of its great accuracy and impressive terminal performance, TNT has become one of Speer Bullets' hottest sellers.
Thin precision jacket and internal fluting ensure explosive performance on impact
Accurate at long ranges
Proven bullet design
Great long-range accuracy
Excellent for varmints
Velocity 3360 fps
100% Hand Loaded