Description
6.5 Creedmoor 123 grain Nosler Custom Competition~ The 6.5mm Creedmoor, is a centerfire rifle cartridge introduced in 2007 as a modification of the .30 TC, which was based on the .308 Winchester. It was designed specifically for long-range target shooting, although it is also achieving success in game hunting. Bullet for bullet, the 6.5mm Creedmoor achieves a slower muzzle velocity than longer cartridges such as the 6.5-284 Norma or magnum cartridges such as the 6.5mm Remington Magnum. However, due to its 2.825 inches (71.8 mm) overall length, it is capable of being chambered in short-action bolt-action rifles and AR-10 semi-automatic rifles.
Long-range shooter Ray "RayDog" Sanchez summarized the bolt-action Tubb 2000 rifle in 6.5mm Creedmoor as "boringly accurate" at 1,000 yards. He asserted the rifle and ammunition combination he used was able to maintain sub-MOA groups at 1000 yards.
Choice Ammunition has taken our 100% hand-loading techniques and produce an extremely accurate, highly dependable round for the 6.5 Creedmoor in this load. Our loading tolerances are only matched by passionate hand-loaders in their own loading rooms. Consistent seating depths, powder charges and proprietary formulas of Choice Ammunition, make this 123 grain Nosler Custom Competition round the best you can buy on the commercial market today. Try a box of our 6.5 Creedmoor in the Nosler Custom Competition bullets today and experience the new match standard.
The Bullet-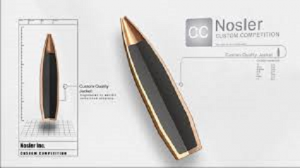 Nosler has blended the accuracy of its Custom Competition bullet jackets with its own ultra-precise, lead-alloy cores to create the performance standard for match rifle and pistol bullets. The hollow point provides a small meplat for reduced drag and increased aerodynamic efficiency while the pronounced boat-tail design provides efficient flight characteristics over a wide range of velocities.
Velocity: 2,898 fps
100% Hand-Loaded